NAMIWalks Hawaii
Join us on October 14, 2023
Donate
Event Date:

Saturday October 14, 2023

 

Location:

Honolulu Hale

530 S King St.,

Honolulu, HI  96813

 

 

 

 

Event Time:

8am-9am  Registration, Wellness Tent, Games

 

8:30am-9am Welcome & Entertainment Begins

 

9am  Walk Begins!

 

10am-1pm  Food Vendors Open

 

11am-12pm  Entertainment and Prizes

 

1pm  Mahalo for Walking with us! 

Contact Us:

NAMI Hawaii

770 Kapiolani Blvd Suite 613., Honolulu, HI  96813

 

Lei Rol

Walk Manager 

808-391-7766

 
Walk with NAMI Hawaii in 2023

Walk with NAMI Hawaii to raise awareness for mental health, and fundraise to support free mental health programs statewide!
Joining us for Walk Day is free! But we encourage fundraising and award NAMIWalks 2023 shirts to everyone who raises $100 or more
Established in 1991, NAMI Hawaii State is dedicated to improving the quality of life of individuals and families affected by mental illnesses. Through support, education, advocacy, and awareness we improve the lives of people in Hawaii who live with mental illness. We serve our community by empowering these people to confront the profound injustices brought on by the difficulties they are forced to endure. Along with our supporters and volunteers, we work to chart a course to meaningful change in Hawaii and a path to recovery.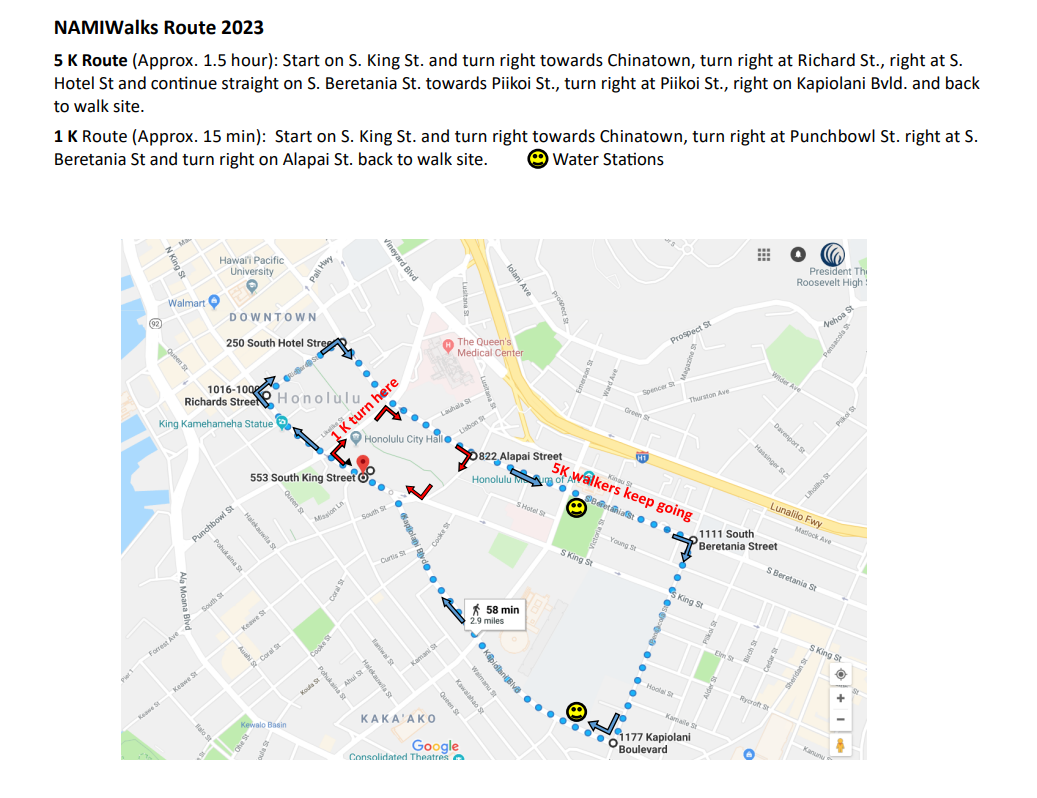 Prospective Sponsor? Click here for the sponsorship brochure.
Manuals: Participant Guidebook || Team Captain Guide